About the project
Improving visibility of cultural and tourist stock the Municipality of Lamia ICT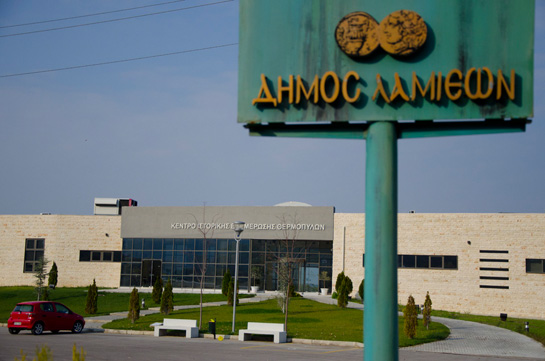 Integrated geographical information system highlighting the points of interest of the area with the possibility of obtaining information and exploring via map.
Purpose of the Project
The project applies a novel approach to the promotion of culture and tourism product of the Municipality Lamia. Existing infrastructure of the Centre for Historical renovation in Thermopylae are being improved, upgraded and strengthened. Utilized tools and technologies , offering the visitor multilingual virtualization browsing in dimensional digital representations of Thermopylae and a personalized external tour using smart mobile devices.
The aim is achieved by creating three-dimensional models of selected monuments, in the region, with emphasis on the historical triangle Thermopylae - Alamana - Gorgopotamos , which have been digitized in a three-dimensional topography of the environment. The user can have a virtual tour around selected monuments - buildings but also be informed about history, architecture, and how to reach them.
Among the objectives of the project are an enhancement of digital content locus of historical renovation Thermopylae and secondly to create a dynamic platform that will be used in tourism and education. Briefly, the project includes the following actions :
Improve the current content of the Centre to enhance the generated intangible product. Specifically, compilation and translation of the content into two additional languages (English and Dutch).
Three-dimensional digitization of selected monuments of the main cultural resources in the area. Collection organization and documentation of digital material regarding the monuments combined with the history and culture that accompanies it.
Public availability of digitized archival material of a cultural and creative nature for further use, commentary - interconnection with its use in creative , educational and research activities.
Development of a tour in the above areas for smart mobile devices. The app will give visitors the opportunity to see three dimensional images and read their story.
The project responds to critical issues :
Eliminating disparities in promotion and development of cultural heritage both between center and periphery and between technologically advanced countries and Greece
To inform, educate and familiarize citizens with the electronic information services and access to knowledge (historical, cultural, social, tourism)
Gathering information by any means and familiarity with new technologies
Strengthen the scientific interest and research development in arts, history and culture of the region
Increase in traffic and cultural tourism
Improve services to citizens of the national and global community
Preserve and protect the cultural resources, of the region, through the use of digitized collections of high quality and precision (e.g. for researchers, scholars and historians)
Co-financed by Greece and the European Union
Contractors: Gnosis Computers, Dotsoft.